Soyuz-2-1B launched with 36 OneWeb satellites
They will be part of the space constellation for the global provision of Internet access - VIDEO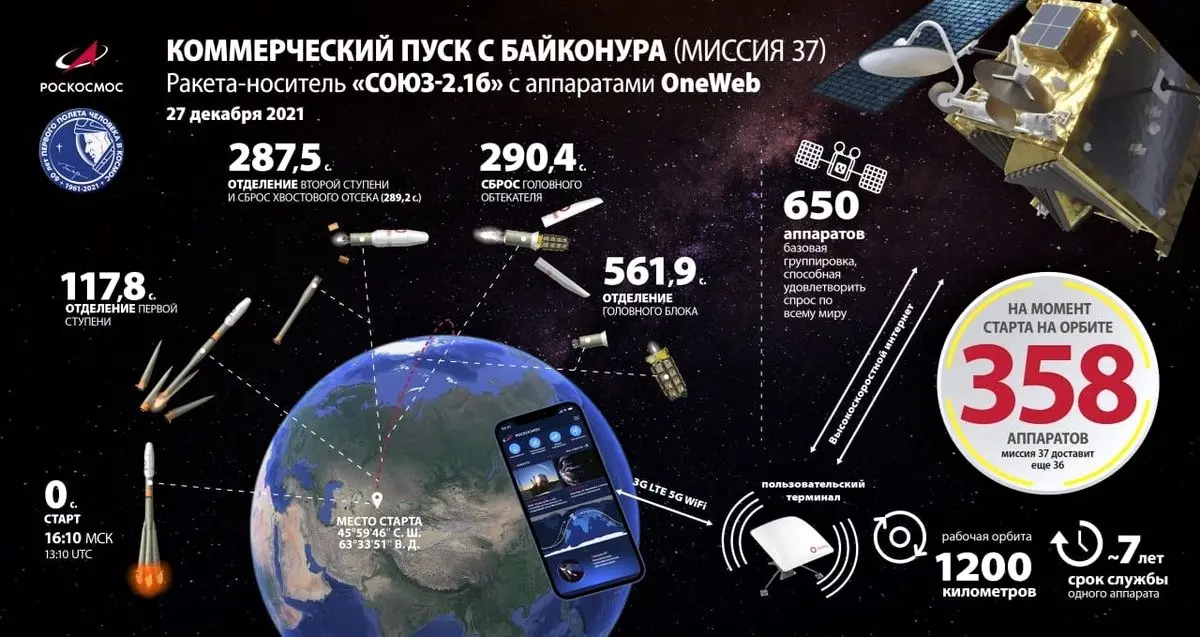 Launches at the end of the year: after the James Webb Space Telescope expedition into orbit, which took place via the Ariane 5 rocket on December 25th from the ESA (European Space Agency) base in Kourou, French Guiana (see AVIONEWS), yesterday was the turn of the Russians, who sent a Soyuz-2-1B capsule with Fregat upper stage and 36 OneWeb space satellites on board, developed by Airbus DS, into space from the Baikonur cosmodrome in Kazakhstan. Starting from 2020, the OneWeb project has been implemented by Bharti Global (India) and the UK Government (each owning approximately 42% of OneWeb shares; the rest are distributed between the Japanese Softbank for 12.3% and the US Hughes Network Systems for 2.6%). The majority shareholder is the London government. The vehicles were instead produced by OneWeb Satellites (50% owned by Airbus Defense and Space and the remaining 50% owned by OneWeb), in a plant in Florida.
The OneWeb satellites are designed to create a space communications system that provides high-speed Internet access globally through 40 terminal stations on Earth. These terminals will be autonomous, self-sufficient and well protected from adverse environmental factors. Each of these will be able to provide high-speed Internet access in their coverage area via Wi-Fi, LTE or 5G technologies.
OneWeb intends to implement a low-orbit constellation of more than 600 satellites for the widespread provision of high-speed broadband Internet access services in the Ku-band, whose customers should primarily be Wi-Fi, LTE or 5G operators, as well as providers of net. The satellites will be in polar orbits with an inclination of 87.9° at an altitude of 1200 km from the Earth's surface.
Below, the video of the launch:
red - 1241269

AVIONEWS - World Aeronautical Press Agency